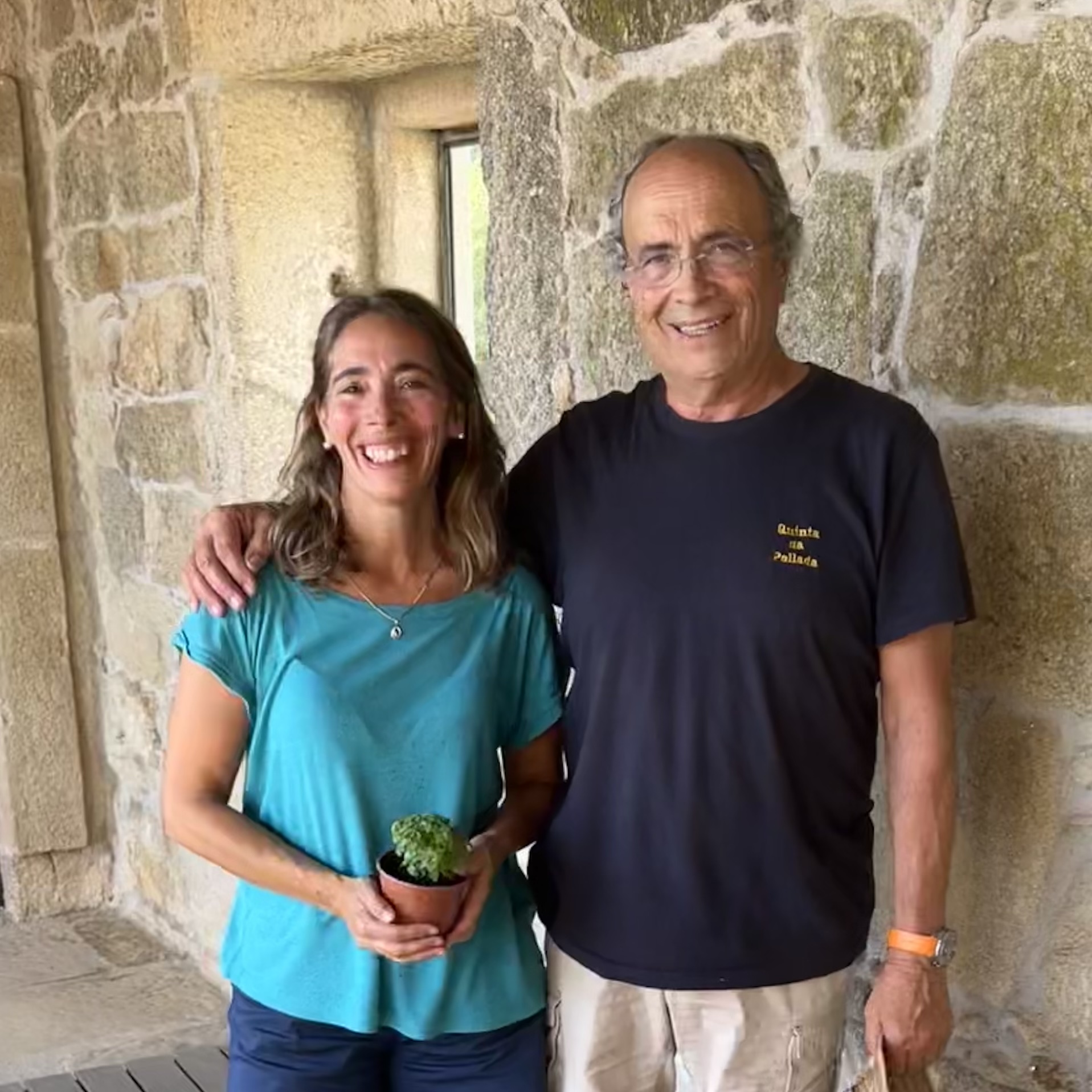 Wines from Alvaro & Maria Castro
DAC Tinto
Quinta da Pellada Carrocel
Quinta da Pellada Casa
Quinta da Pellada Naked Vine
Quinta da Pellada Pape
Quinta da Pellada Primus Branco
Quinta da Pellada Tinto
Quinta de Saes Reserva Encruzado
Quinta de Saes Reserva Estágio Prolongado
Quinta de Saes Rosé
Quinta de Saes Tinto
Quinta de Saes Touriga Nacional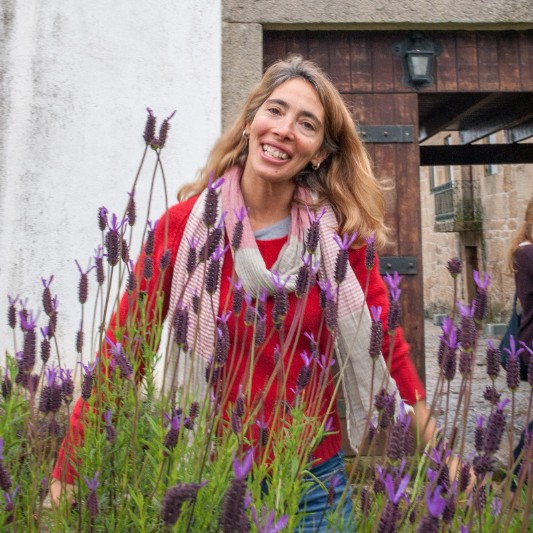 Maria Castro (daughter)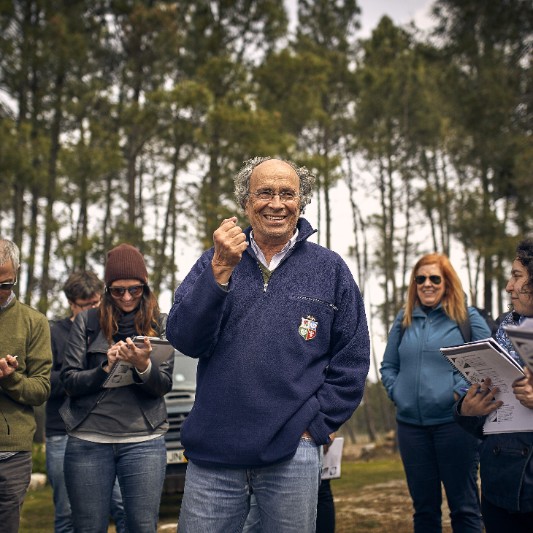 Alvaro Castro (father)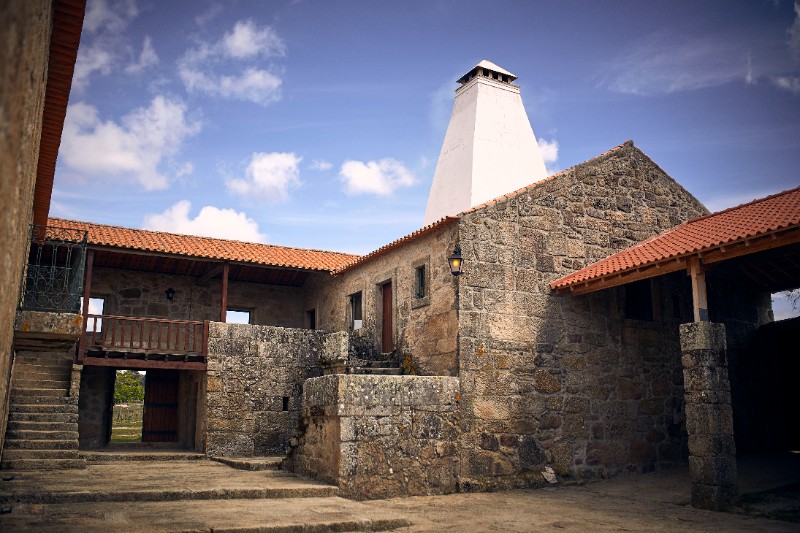 Quinta da Pellada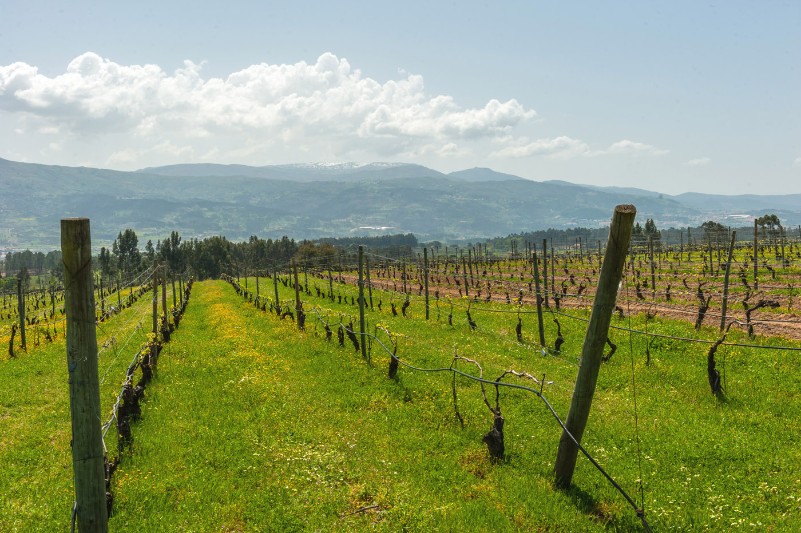 Vineyard in the Dão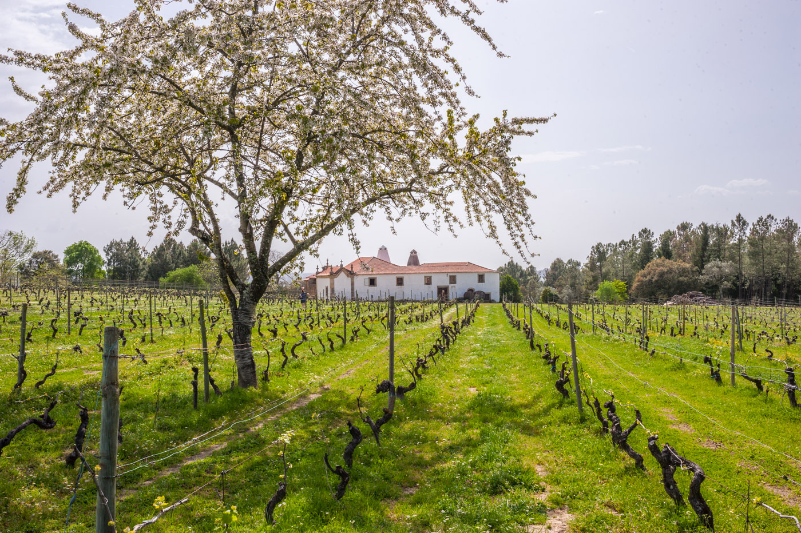 Quinta da Pellada Vineyard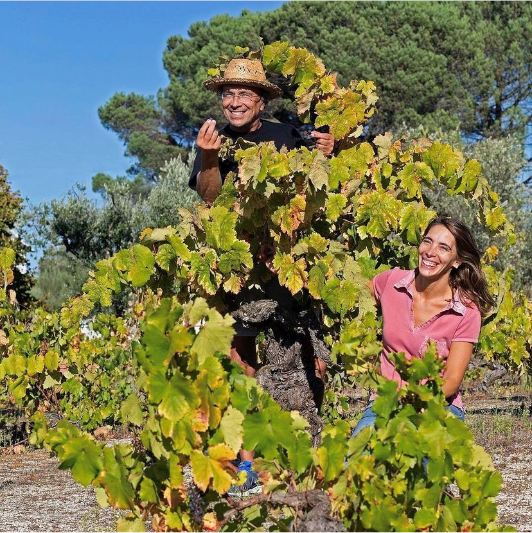 Alvaro & Maria
Alvaro & Maria Castro
Pellada & Saes
Dão, Portugal
Portugal is a small winegrowing country capturing global attention: 400 indigenous varietals and hundreds of microclimates packed into an area one-quarter the size of California makes it unrivaled by nearly any other winegrowing area in the northern hemisphere. Yet even within this petite territory, there remain ever-smaller subregions to discover; for wine drinkers who want to stay ahead of the curve, now is the moment to pay attention to Álvaro and Maria Castro's Dão. Nestled between the famous Douro Valley and coastal Atlantic Bairrada, Dão is considered a perfect winegrowing climate, drawing winemakers from all over Portugal and beyond to begin new projects in this underrated region. For all those seeking to understand Dão, the strongest references for fine wine made in the traditional local style are the wines of father and daughter winemaking duo, Álvaro and Maria Castro of Pellada and Saes.  
Dão's isolation has kept it out of the international spotlight until recently, and the area remains barely represented in export markets: for example, Dão holds only a 2% market share for red wines compared to Alentejo's 40%! Winemaking here was dominated by large cooperatives for decades, until an unlikely champion for grower methods and indigenous varieties emerged in the 1980s: Lisbon-born civil engineer Álvaro Castro, who had no previous winemaking experience but found himself the heir to two small farms (or quintas) known as Pellada and Saes. He was joined later by his daughter, Maria Castro, and today the two continue a winemaking tradition on their family estate, which dates to the 16th century. Today, the Quinta da Pellada and Quinta da Saes wines draw a line from historical Portuguese winemaking into modernity.  
Álvaro and Maria Castro live in Lisbon, commuting to spend the majority of their week in the vineyards and at the winery. Like her father, Maria is an engineer by training, with a degree in biotechnology, who turned later in life to wine. Unlike her father, she arrived to the family business in 2000 with professional winemaking experience from working in Bordeaux, at a large winery in Lisbon, and with Dirk Niepoort in Douro. Although Álvaro did not have formal training, he has always trusted his own palate, and living in Lisbon but making wine in a remote location, he has seen myriad trends come and go. Through it all, his approach has been to stick to what he knows is good wine—balanced, elegant, lifted, age worthy—and his faithfulness to the real Dão has set the benchmark for what are now considered regional classics. Together, Álvaro and Maria form their own field blend of opinions, styles, and influences, all of which add up to a remarkable line of small-production red and white wines that emphasize their "less is more" philosophy and impeccable terroir.  
IN THE VINEYARD 
Álvaro Castro was famously resistant to the "internationalization" of Portuguese wine that swept the nation in the 1980s, and through his resistance to trends, helped establish the standard for Dão wines made in the "classic" style. Today, he and Maria vinify more than 40 indigenous varieties from the Pellada and Saes properties, which have a combined 44 hectares of vineyards between them. Both were densely planted in the field blend style, demanding careful attention in the vineyards and little mechanization possible. One of the Castros' key winegrowing philosophies is the use of massal selection to achieve diversity and balance, as well as spread out risk from disease and volatile weather. With a few experimental exceptions, nearly all the wines at Pellada and Saes are vinified as field blends.   
Pellada and Saes are distinct sites, but the same vineyard philosophy and attention to detail is applied to both. Pellada means "naked" in Portuguese, and this southwest-facing site perched next to the 16th century family house has very little surrounding vegetation. It is the older of the two vineyards, with most of the vines planted in the 1950s. Saes is a Portuguese surname, and this site has eastern exposure, with younger vines planted in the 1980s and 1990s; this is where the living quarters and winery are located. To make the comparison to Burgundy, some may consider Pellada to be the "Grand Cru" and Saes the "Premier Cru" on the estate. Additionally, the Castros farm a 20-hectare vineyard known as Outeiro, or "hill," which was purchased from a neighbor in the early 1990s and is used to supplement the Saes wines, particularly with its remarkable assortment of heritage clones of Touriga Naçional. All the vineyards are nestled above the valley floor within the foothills of the dramatic Serra da Estrela district, the easternmost subzone of Dão, reaching nearly 1,700 feet in elevation. Dão's fundamental soil type is granite, and often there will be clay, decomposed granitic sand, and even large quartz boulders mixed in. At Pellada and Saes, those boulders serve as a lookout point for the resident winery Bassett Hound, Tobias, who even has his own micro-label and welcomes visitors to the vineyards year-round. 
Dão is quickly becoming the most sought-after region for independent Portuguese winemakers to explore, in part for its "perfect" microclimates and genetic diversity. Huge mountains protect it from continental heat to the east and Douro's heat to north, and cool Atlantic breezes come inland to keep the overall temperatures regulated, making for wines with bright acidity, ethereal aromatics, and compelling complexity. The DO's granitic soils allow indigenous grapes to shine through in the wines, and provide firm, crunchy tannin against the bright, aromatic fruit characteristic of the area. Álvaro Castro has said that "if God were to design a wine-growing region, what he would come up with would look a lot like the Dão."   
IN THE CELLAR
The Castros have one winery for the estate, and just like its owners, the facility is practical, unfussy, and quietly producing some of Portugal's best wines. The aging philosophy for reds is measured in winters, with the final wines spending two winters at the estate before being bottled and sold. Because winters can be extreme here and the Castros do not manipulate tank temperatures, this is a personal and a local sentiment that speaks to a less technology-driven way of making wine. In another historical reference, the winery has a granite lagar, which is reserved for the use of fermenting the top Pellada releases. All other red wines are fermented in stainless steel before aging in various oak regimens. For the entry level wines, this is a minimum of 12 months, or one winter, while for the top cuvees (Pellada Tinto, Jaen, Pape Carrocel, Alto, and others) this amounts to 36 months. Despite the occasional use of the lagar, the Castros have changed their approach to red winemaking in recent years, favoring less extraction to allow for a more elegant profile and more profound aromatics. Pellada and Saes produce co-fermentations and some monovarietal wines using the red varieties Alfrocheiro, Touriga Nacional, Baga, Tinta Pinheira, Jaen, Tinta Roriz, and even a tiny bit of Pinot Noir, which mad-scientist style, has been co-fermented with Touriga for experimentation. 
For white winemaking, all the wines see some skin contact prior to fermentation, which like with the red wines is spontaneous, using only indigenous yeast. Clarification is done gently by gravity, allowing for incredible texture to remain present in the whites. Álvaro and Maria like the kind of healthy reduction that creates an interesting aromatic profile over time in their white wines and use stainless for most of their fermentations. The top white wine cuvees (Primus, Encruzado Late Release) are fermented in either concrete egg or large (400L) used French barriques and stay 18 months in oak at the winery. Pellada and Saes vinify indigenous white varieties Bical, Encruzado, Sercial, Malvasia, and Arinto de Bucelas. 
APPELLATIONS & WINES
In 1980, Álvaro Castro was a civil engineer who inherited two adjacent properties that were producing grapes that were sold off to coops, which was the way of addressing lack of scale in Portuguese winemaking at that time. Very few private estates were bottling wine.  Within a few short years, he became one of the earliest estate producers in all of Dão, and today continues to lead the charge of authenticity, balance, and sustainability in this special region. His life's work has landed Castro (and by extension, his daughter Maria) on the Decanter list " Portuguese icon wines: 10 names you need to know. Additionally, Robert Parker of Wine Advocate writes, "If you've been following along for the last several years, this is a winery that needs little introduction. An iconic producer in his region … Castro makes age-worthy wines of great freshness and elegance." 
Because the two vineyard sites are vinified separately, the Castros use different names for the range of wines coming from their estate. The Quinta da Saes wines serve as excellent "calling cards" to the region, and they include Saes Tinto (a red field blend), DAC Tinto, Encruzado Branco, a reserve red blend named Estagio Prolongado, and an experimental 100% Touriga Nacional from the old vines at Saes. Quinta da Saes Tinto has landed in the Wine & Spirits "Year's Best" issue. 
Quinta da Pellada wines have been identified by top press across the globe as "impressive" and "elegant." Quinta da Pellada Tinto in particular shows off the diversity of the Castros' prized vineyard that is "regarded as a genetic heritage in this region" (Roger Voss, Wine Enthusiast). All Pellada wines are by default single-vineyard wines, with certain bottlings (Casa, PaPe, Alto, Primus) representing specific parcels within the site. The flagship wines from Pellada have received multiple 95+ scores across recent vintages from Wine Advocate. 
SUSTAINABILITY 
As leaders in Dão who have long committed to traditional varietals and vineyard practices, the Castros feel that it is essential to take a strong position on sustainability. Pellada was planted prior to the arrival of tractors and has always been worked by hand. The Castros opt to dry farm both sites except for in very extreme years, believing that the quality and concentration of the fruit is superior to that of irrigated vineyards. Finally, they farm using biodynamic principles like co-planting, lunar cycles, and refusal of chemical products in the vineyards and winery. Just as they would have done in the 16th century, sheep graze in the vineyards in winter, as there are always native grasses growing year-round for cover crop, along with the occasional co-planting of other beneficial plants. In the winery, the Castros utilize only enough sulfur for stability at bottling and no more, and while Álvaro refrains from embracing the term "natural wine," their style can certainly be described as non-interventionist—as well as anti-trend. 
---
Let's stay in touch
"We'll keep you in the loop about future events, winemaker tastings, recipes, new releases, travel guides and other occasional updates."