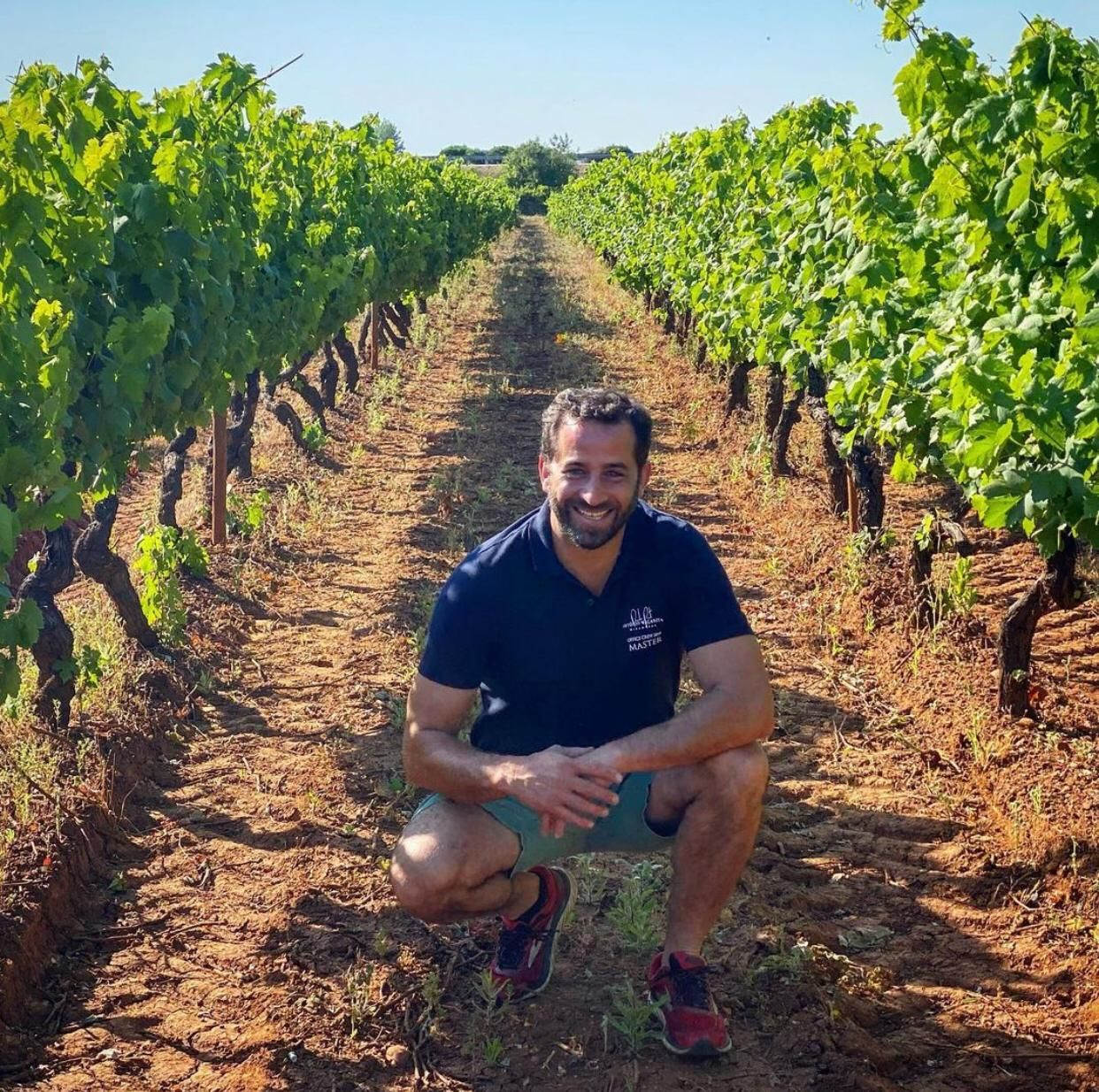 Wines from António Maçanita
Arinto dos Açores
Branco Vulcânico
Carta da Fitapreta
Fitapreta A Laranja Mecânica
Fitapreta A Touriga Vai Nua
Fitapreta Baga Ao Sol
Fitapreta Branco de Talha
Fitapreta Branco o Ancestral
Fitapreta Os Paulistas Chão dos Eremitas
Fitapreta Tinta Carvalha Chão dos Eremitas
Fitapreta Tinto
Fitapreta Tinto de Castelão
Isabella a Proibida
Rosé Vulcânico
Tinto Vulcânico
Verdelho o Original
Vinha Centenária Branco
Vinha dos Utras Branco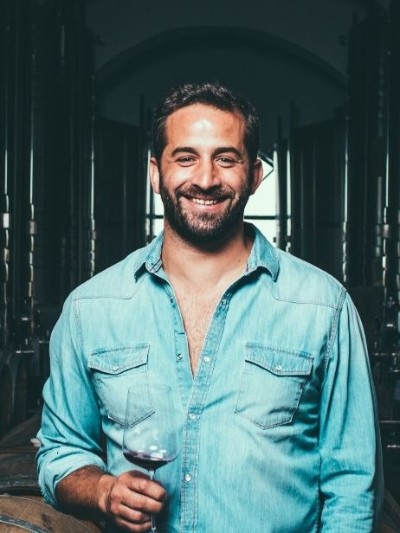 António Maçanita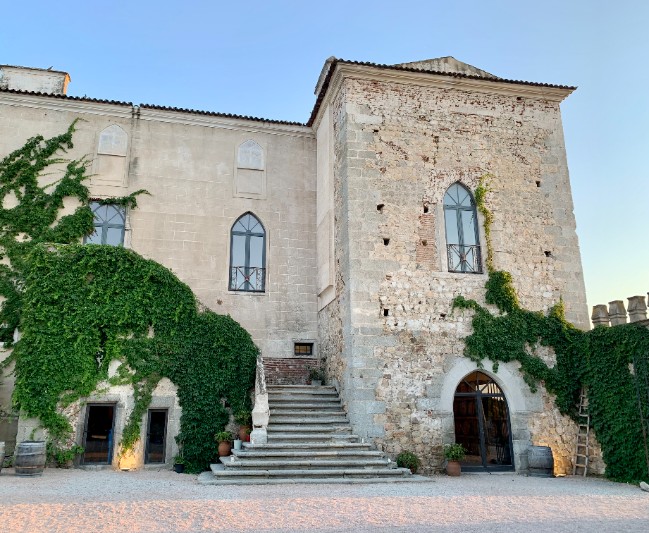 Fitapreta Old Building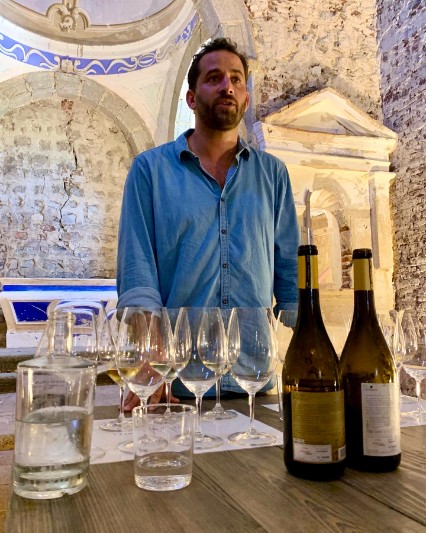 Wine Tasting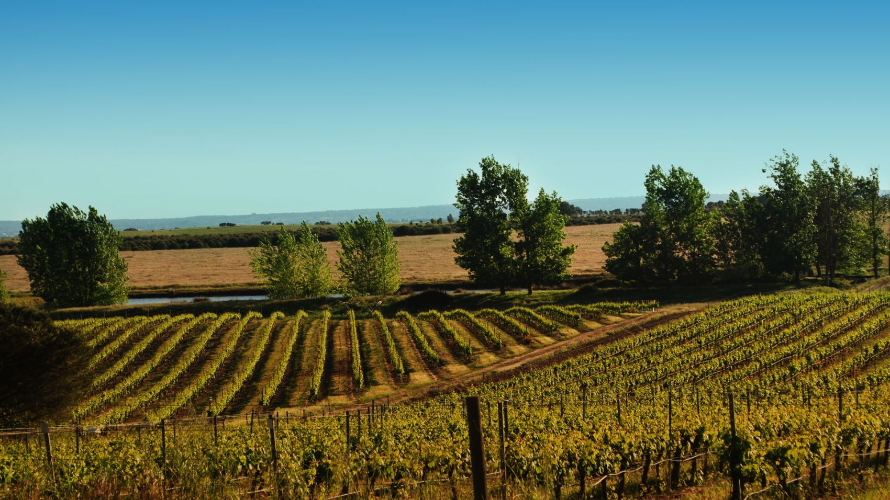 Fitapreta Vineyard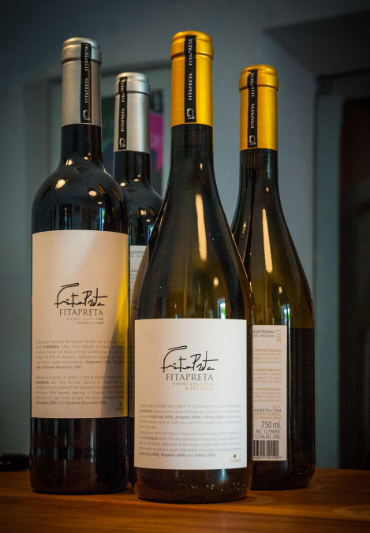 Wines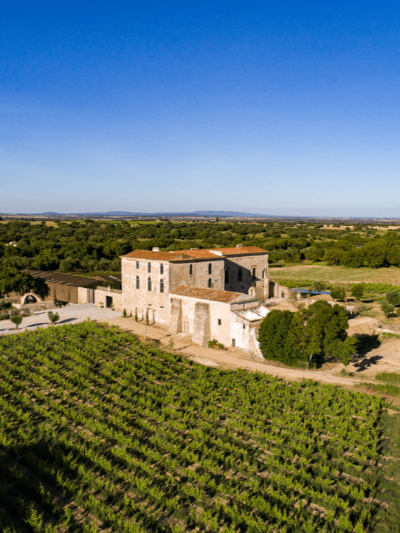 Fitapreta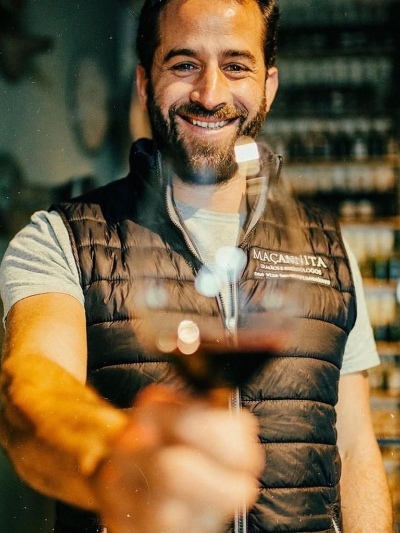 António Maçanita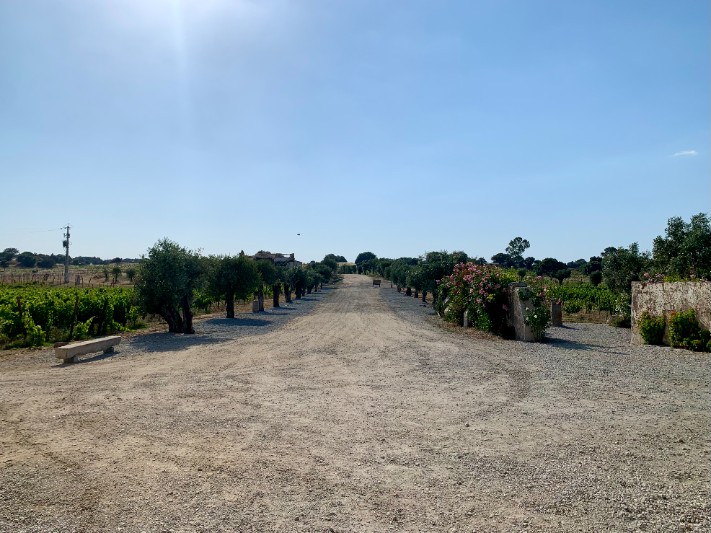 Vineyard
António Maçanita
Fitapreta, Azores Wine Company & Maçanita Vinhos
Alentejo, Azores & Douro, Portugal
Winemaker, consultant, researcher, provocateur. António Maçanita is one of Portugal's youngest and most prolific talents, whose work spans the country's most fascinating regions, including the far-flung Azores archipelago and the island of Madeira. In less than two decades, the self-made wine star has transformed his career from that of a brash young upstart met with skepticism—and even hostility—from the Portuguese old guard to one that has paved the way for generations to come. Maçanita has been applauded by Portugal's top wine publications, who have named him both "Winemaker of the Year" and "Most Unique Winemaker," as well as "Winemaker of the Generation" for his work from 2006-2016. António bends time and place in his relentless work, harnessing the best grapes from at least four distinct winegrowing regions as well as consulting for other Portuguese companies. Only someone as energetic, restless, and charismatic as António can capture the complexity of this small country's winemaking traditions while simultaneously bringing them into the 21st century with style.  
An expert blender of wine and philosophy, Maçanita's work combines both innovation and ancient tradition. He is known for his forward-thinking and playful "firsts," such as the production of Portugal's first blanc de noirs wine and its first amphora-aged wine, and for being the first to commercialize hybrid varietals in the Azores—even though it was prohibited! When his attention is in the historical rearview, his dedication to the revitalization of the old and historic is unmatched, from the estate winery he built in Alentejo on the bones of a 14th century monastery and farm, to his painstaking work reviving dozens of varietals not seen in commercial winemaking for in centuries. Between these two poles of past and future lie António's core philosophies: a respect for nature informed by common sense; an embrace of heritage and tradition without sentimentality; zero fear of failure; playful exploration of place, time, technique; and endless imagined possibilities.  
António was born in Lisbon into an Azorean-Alentejano family known for its hospitality, passion, and fun. The Maçanita family had no formal winemaking background, but from a young age, he embraced the clan's love of academic and scientific pursuits, plus loads of healthy competition: both António and younger sister Joana are feisty winemaker-colleagues now, and both were once athletes with Portuguese national teams. Young António's first introduction to wine took place at just four years old, when he learned to foot-tread grapes during a family vacation in the Azores. By the time he reached young adulthood, António's lifelong passion for agriculture outweighed his interest in marine biology (although he remains an avid surfer and angler) and he entered the renowned Institute of Agronomy (ISA) in Lisbon. After completing his degree, he gained experience and perspective through internships with a diverse group of iconic wineries, such as Chateau Lynch-Bages (Pauillac) in Bordeaux, Merryvale Vineyards and Rudd Estate in Napa, and D'Arenberg in Australia. He returned to Portugal inspired, with the ambitious goal of bringing international varietals—and international attention—to the underrated appellations of his home country. Years later, the work that placed Maçanita on the world stage was ultimately closer to home: his exploration and vinification of the viticultural, geological, and architectural treasures of Portugal's winemaking areas. His passion for uncovering details lost to time and then issuing a modern interpretation using cutting-edge technology and a scientific approach are what make António the standard-bearer for the New Portugal.  
Maçanita launched his first winery in 2004 in the Évora district of Alentejo with his friend and mentor, the British viticulturalist David Booth. From the start, Fitapreta Vinhos set out to bring a fine wine mentality to this prolific yet rustic wine region, pushing the boundaries of the caliber of wine possible there. Booth passed away suddenly quite early in the partnership, but Fitapreta today reflects his legacy: the winery has become one of the preeminent estates in this ancient Roman viticultural area. Like all things Maçanita, it combines old and new, home to a modern winery that complements its 14th-century hermitage and chapel, the latter of which was home to the ruins of the region's oldest cellar. Just a decade after launching in Alentejo, António and two other partners founded the Azores Wine Company on the island of Pico (a UNESCO World Heritage Site) after becoming inspired by their shared work recovering the indigenous Terrantez do Pico varietal—not to mention António's many childhood trips to his own father's homeland. The initial bottling of Terrantez do Pico made a splash in the wine world, receiving a top score from Wine Spectator, and a mention in their article "Breaking the Mold" in 2016. 
Always on the go, António splits time between Alentejo and the Azores, as well as the various regions where he consults. António's mother, Joana, is a frequent presence at Fitapreta, known for preparing nearly as many Alentejano dishes for guests as Fitapreta makes wines. António also works in Douro with his sister Joana, at a small property known as Maçanita Hermãos e Enólogos. A consummate family man, António also works with his wife, the French-born Alexandra Leroy Maçanita, who oversees all aspects of hospitality at Fitapreta. They have three young children together: Vitoria, Alice, and baby António.  
IN THE VINEYARD
António Maçanita manages to achieve balance in extremes; his two primary winemaking areas could not be more polarized! On cold and wet Pico Island, vines struggle to escape the volcano's rain shadow grasping for sunlight along the island's edge, where 500-year-old volcanic stone walls (known as currais) are all that stand between the plants and dangerously salty Atlantic winds. Making wine on Pico, according to António, is a constant "battle between the sea and the mountain" and he is one of very few who have succeeded in achieving ripeness in red grapes here. At the other extreme, he must handle the sun-blasted vineyards of Alentejo, where rough, cheap red wines made for bulk consumption had long been the local standard—a far cry from Fitapreta's nuanced bottlings. The intense climate has forced António to seek out more delicate local red varieties for balance and has even inspired his use of thermal mapping via drone to locate pockets of cooler weather ideal for his textured white wines. 
Maçanita farms 72 hectares across north-central Alentejo, planted at altitudes of up to 1,500 feet above sea level. These vineyards are in multiple subregions (Borba, Évora, Vimieiro, Redondo), all dominated by schist soils. One of the Fitapreta calling cards is its modern twists on indigenous varieties, like Antão Vaz, Arinto, Roupeiro, Touriga Nacional, Aragonês, Trincadeira, Alicante Bouschet, Alfrocheiro, Castelão, and Boal de Alicante. The estate's 50-year-old "Chão dos Ermitas" vineyard serves as a nursery for many forgotten grape varieties that once dominated Alentejo, such as Tinta Carvalha, Moreto, Alicante Branco, and Tamarez or Trincadeira das Pratas. 
In the Azores, António and his partners own 100 hectares of extremely low-yield, walled vineyards (primarily on Pico) and purchase fruit from an additional 30 hectares across the archipelago, from regions such as DOP Graciosa, São Miguel, and others. These sites range from sea level to 500 meters in altitude, with the oldest vines averaging up to 80 years. It is from this stony volcanic terroir that according to António, "these singular, saline wines are born, or should we say, erupt." Here, indigenous varieties are the focus: Arinto dos Açores, Verdelho, and Terrantez do Pico are the primary white grapes, with Boal (Malvasia Fina), Fernão Pires, and others. For the reds, António cultivates Saborinho, Rufete, Bastardo, Malvarisco, Castelão, Touriga Nacional, Aragonês, and forbidden hybrid Isabela, along with small amounts of Syrah and Merlot.  
IN THE CELLAR
Despite the major differences across his winegrowing regions, Maçanita maintains a consistent winemaking strategy. For reds, António aims to showcase the varietal's fruit and aromatic profile as influenced by the local climate, from the hedonistic aromas of unoaked Touriga Naçional and Baga grown in sunny Alentejo, to the briny, electric perfume of the prohibited red hybrid variety Isabela, on Pico. He achieves this with gentle, gravity-fed winemaking, and insists upon whole cluster and native yeast fermentation, with careful attention to the fermentation temperatures so that brightness and secondary aromas remain intact. Maçanita uses a combination of stainless steel, new, second, and third use French oak barrels in his winemaking, determined by the needs of the varieties and blends.  
For white wines, Maçanita allows for up to a day or more of skin contact to add texture and incorporate some native yeast, helping along the fermentation. Total spontaneous fermentation is not always possible in the Azores wines but is used at Fitapreta for whites. In the Azores, he uses horizontal stainless-steel tanks to maximize the wine's contact with the lees, adding some roundness to the searingly acidic palate. He also uses traditional vertical tanks and used barrels of various sizes for white wines. At Fitapreta, his use of the talha, or amphora, has shown the benefit of micro-oxygenation on the local white grape varieties, making them aromatic and easy to drink after only a short aging period. Regardless of the site, all Maçanita's white wines go through malolactic fermentation.  
António Maçanita's wineries serve as hospitality centers, research laboratories, and reflections of their local culture. The Azores Wine Company winery on Pico—just completed in 2021—is a modern building with copious glass walls, allowing for unobstructed views of its dramatic maritime surroundings. There is a tasting room and restaurant dedicated to showing off not only the regional grapes but the local seafood and dairy specialties; these amenities require a much larger staff than the area's typical cooperative winery, and Azores Wine Company employs over 30 locals. At Fitapreta in Alentejo (a large, rural province susceptible to losing its brightest young people to bigger cities) António has a lively team of 50, and his modern building with subterranean fermentation tanks, local cork flooring, and classrooms, receives many visitors each year. The refurbished chapel has enough space for enormous wine dinners—and great acoustics for a little singing after. 
APPELLATIONS & WINE
António Maçanita currently makes wine in at least six distinct regions across Portugal (Alentejo, Algarve, Azores, Douro, Lisbon, Porto Santo/Madeira; not all of these are exported) with over 75 wines produced under his own umbrella and another 30+ made as a consultant. His exposure to nearly the entire country's winemaking needs has made him one of the preeminent experts on not only his own wines, but all of Portugal's.  
Despite some uphill battles in his career and a lot of suspicion from more established old guard winemakers, Maçanita's very first wine, Preta 2004, won the Alentejo trophy at the International Wine Challenge. Now known as "Preta Cuvee David Booth," it regularly receives top marks from Robert Parker's Wine Advocate, Wine Enthusiast, Decanter, and others. Other wines like Palpite Branco and Tinto, and the single-vineyard Chão des Ermitas wines reflect the seriousness of Fitapreta's undertaking—and have received many 90+ scores from press like Decanter, Wine Advocate, Wine Enthusiast, Wine Spectator, and others—and are complemented by eclectic bottlings like "A Laranja Mecânica" (A Clockwork Orange), which showcases the tinkerer's approach that got António into winemaking to begin with. At Azores Wine Company, the Volcanic Series (Branco, Rosé, and Tinto Vulcânico) have become the calling cards of the Azores wine region, with most of the grapes coming from Pico, although some are farmed on other islands. The Rare Grapes Collection consists of single-varietal wines like Verdelho O Original, and they set the tone for António's project: understanding these historic varieties so that they can have a bright future, in his hands and others.' 
Today, reviewers regularly use terms like "accomplished," "impressive," and note that "every time you look up, something interesting is happening [from Maçanita]." In 2018, António Maçanita won both the Winemaker of the Year title from Revista dos Vinhos and the 2018 Uniqueness Award from Grandes Escolhas magazine, and in the same year, Revista do Vinhos considered Azores Wine Company a Breakout Producer. In 2016, Azores Wine Company and its three partners won the Project of the Year and two years later, Revista de Vinhos Magazine chose Vinha Centenária, from Azores Wine Company, as one of the Best Wines of Portugal in 2018. in 2021 Fitapreta was named Producer of the Year by Revista de Vinhos. 
With his extensive portfolio and so much global and local attention, it is hard to believe that António Maçanita has only recently turned 40 years old. In his short but impactful career, he has managed to blaze a trail forward not only for himself, but for many generations to come. In this way, he reflects the most exciting facet of contemporary Portuguese wine: it is having its moment now, and the sky is the limit for its potential. Unlike Europe's more famous and established winemaking areas, history is not for reading in books, but being made by winemakers like António right now, for the entire world to see—and taste. 
SUSTAINABILITY 
Maçanita describes his strategy for sustainability as one that exists to guarantee not only the environmental healthiness of "today," but for generations to come. He takes the long view, favoring the French translation of "durability" over the term sustainability, noting that "we make sure things can last … our vineyards, our soil, our family, our communities, our wines, our business." Fitapreta is a proud member of Alentejo's 178-point sustainability program, and takes many steps to reduce its environmental impact, from creating new habitats for pollinators, dry farming, reducing emissions by exchanging mechanical equipment for sheep for cover crop maintenance, and collaborating with the local community and research institutions. Fitapreta and Azores Wine Company employ dedicated full-time vineyard teams, allowing for the minimal use of chemicals (unless absolutely necessary) and careful, gentle hand harvesting.  
---
Let's stay in touch
"We'll keep you in the loop about future events, winemaker tastings, recipes, new releases, travel guides and other occasional updates."